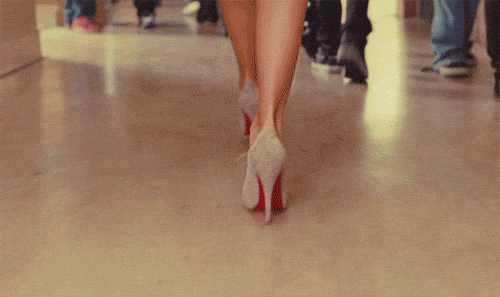 Walking gracefully in high heels is probably in the top five on the difficulty list for most femulators. A WhoWhatWear
article
by Kat Collings attempts to make this difficult task less difficult. If you follow Kat's advice, you can become a
femme fatale
in high heels.
The following summarizes Kat's advice followed by my comments
👠 The easiest way to look like an amateur in heels is to put your whole foot down at once as if you're wearing flats. When wearing heels, put your heel down first, followed by your toe. This will make your walk look more natural. –Kat
In other words, don't walk tippy-toed. –Stana
👠 Wearing heels makes your stride shorter than normal, so you'll have to take an increased number of small steps to go the same distance. We're not recommending baby steps, but don't try to take your usual long strides either. –Kat
Don't walk like a man. –Stana
👠 Trying to walk quickly in heels often ends up looking quite awkward. Between the smaller steps and the compromised balance, it's best to take your time in heels. Besides, walking slowly gives off an air of confidence. –Kat
That is, femme fatale confidence. –Stana
👠 You may find you want to walk faster than your heels will allow, and end up craning your neck forward to compensate. This ends up looking strange, so allow yourself to lean just the slightest bit back when walking in heels, as this will counteract your inclination to lean forward. –Kat
Walk too fast in heels and you may trip yourself and get hurt (been there, done that). –Stana
👠 When you want to draw a straight line, you'll get better results if you look at your end point as you draw, rather than looking at your pencil as it moves. Similarly, when walking in heels, you'll walk more gracefully if you look at your goal point (maybe it's the podium at the end of the stage), and visualize a straight line going toward your end point, rather than looking down at your heels as you walk.–Kat
Looking down at your heels also makes you look suspicious, as if you are trying to hide in plain sight. This just brings more attention to yourself (what's she trying to hide?), may cause civilians to examine you more closely and possibly blow your femulation (another been there, done that). –Stana
👠 As you take each step, or if you feel yourself slipping, arch your foot slightly to put pressure on the inside of your shoe. This will make your shoe fit closer to your foot, making it easier to maneuver. –Kat
Until I read Kat's tip, I didn't realize that I was doing this subconsciously.–Stana
👠 If your shoes are ill-fitting, it makes the difficult task of walking naturally in heels almost impossible. If your heels are too big, use shoe pads for a better fit. If they are too small, consider having them stretched by a local cobbler, or try
this hack
to stretch them yourself. –Kat
If your shoes are well-constructed, a proper fit extends the length of time that wearing the heels will be comfortable. Also, it is very embarrassing to have a loose shoe slip off your foot while you are strutting your stuff (yet another been there, done that). –Stana
Wearing Venus.